Active Partnerships launch Racial Equality CommitmentFind out more about #RacialEqualityCommitment


Tackling inequalities has always been at the heart of the work of Active Partnerships. But when the shocking death of George Floyd caught on video in the US last summer sparked protests and a national debate, we recognised we must do much more to address racism and racial inequalities within sport and physical activity.So, over the last year, we have worked together as a learning community across the network in order to build a more in depth understanding of the issue in our communities and to agree tangible actions to make a difference at national and local levels.  
Funding from National Lottery Community Fund Find out more

The National Lottery Community Fund is distributing government funding alongside National Lottery funding, to support organisations to continue to deliver services to people and communities affected by COVID-19.The fund can also help organisations overcome any acute financial difficulties they face as a result of the pandemic. Given the emergency, awards will be between £300 and £10,000 to cover six months of expenditure. The fund is suitable for voluntary or community organisations.  
England Football launches Football Your Way campaign Find out more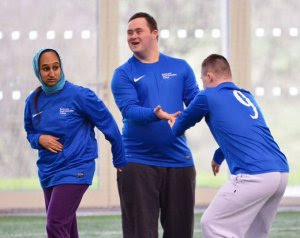 England Football, The Football Association's new home for participation and the grassroots game, has launched Football Your Way, a new campaign to help disabled footballers return to the sport and reclaim the moments they have missed, as Covid-19 restrictions are lifted across the country.The campaign is funded by Sport England as part of the tackling inequalities funding programme.  
Active Calderdale invites views of people in the district Find out more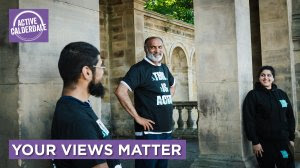 Active Calderdale is seeking views from people in the district to help shape future plans.The feedback will support Active Calderdale to implement projects that can have a significant and lasting impact on the health and wellbeing of Calderdale residents. If you work with communities in Calderdale, please encourage them to complete the survey, which is open until Monday 7 June.  
Sport England funds development of participation in sport amongst people with sight loss
The Royal National Institute of Blind People (RNIB) in partnership with British Blind Sport have received £1m in funding from Sport England for three years to develop participation in sport amongst people with sight loss. Find out more…New insight reveals young people are less likely to return to organised activity post-lockdown
Children and young people are less likely to return to organised community activity post-lockdown than adults, according to new research by the Sport and Recreation Alliance. Find out more…EMD UK and classfinder's #SafeToBeBack campaign
The #SafeToBeBack campaign gives instructors a chance to encourage participants back to indoor classes and an opportunity to provide information about how they are mitigating the spread of COVID-19. Find out more…Publication of new LTA Inclusion Strategy
The LTA has published its new inclusion strategy for tennis in Britain, with an ambition to lead the way on inclusion and diversity in sport. Find out more…More exercise could help poorer pupils, study says
Children who do more physical activity are likely to have stronger self-control which can help their education, research by Cambridge University shows. Find out more…