Our new strategy, webinars and opportunities
Another month has whizzed by. We hope that if you're back to face-to-face sessions that you are enjoying the opportunity to support your young people, and if you're not, we hope your preparations to re-open are coming together.
Scroll down to find out more about our new four-year strategy 'Reach. Include. Empower' and the new dates available to book for the Youth Mental Health First Aid Awareness Workshops, as well as additional opportunities and Sported news.

While we're putting the finishing touches to the Sported Hub, Your Sported Network is still there with all your downloadable resources, events info and all the Sported benefits and services. There's also the Sported Member Facebook Group where we post new funding opportunities, and anything else that may be of interest.
Please do keep sending us videos and pictures via social media on Twitter and Instagram. We love to see what you've been getting up to.
The Sported Team
We've launched our new and exciting four-year-strategy Reach. Include. Empower.
Our new strategy takes on board what you've told us over the past year and uses this invaluable insight to shape our direction and priorities going forward.
We'll be focusing on where we can make the biggest difference and support you with:Improving physical and mental health – supporting group leaders and your young peopleTackling inequalities both in sport and throughout sport – channel a greater proportion of support to help group leaders and young people who are facing discrimination or disadvantage to have equal access to opportunitiesConnecting community sport groups for collective action – we will help groups become better connected, supporting you to take charge of your own future and work together to create positive change within your communitiesCheck out the full strategy here.
Youth Mental Health First Aid Awareness workshops – New dates added!
Mental Health Awareness Week saw the first in the series of Youth Mental Health First Aid Awareness workshops delivered by StreetGames. Those who attended said that the workshop was extremely insightful and useful.
The next three dates are now available to book. Due to limited capacity, we can only accept one person per organisation, and you must be delivering sessions directly to young people.
The next dates for the workshop are:
Monday 7th June: 6pm – 9pm
Sunday 13th June: 1pm – 4pm *NEW DATE*
Thursday 24th June: 1pm – 4pm (limited capacity)
To book e-mail events@sported.org.uk"An informative & interactive workshop"

"Very interactive and engaging. Each participant was involved."As a Sported member, you have access to some great benefits from our partner organisations that can save you both time and money – and in some cases make you money. SNAP Sponsorship and Groop are running information sessions for you to find out more about their services and how to take advantage of your Sported member discount.
SNAP Sponsorship Information sessions
Tuesday 25th May, 12pm – 1pm OR Wednesday 26th May 6pm – 7pmCould you increase your sponsorship by up to £10,000?
Let Snap Sponsorship tell you how.
SNAP Sponsorship is an online sponsorship management, education and social sharing tool designed with grassroots volunteers to help all sports clubs toward financial sustainability through sponsorship success.Sported members get 12 months for the price of 11, which works out at less than £9 a month.Hear what Sported member Bates Cottages Cricket Club had to say here and join the lunchtime or evening session to get an overview of the platform and hear how it can generate revenue for your group.
Tue 25th May, 12pm – 1pm book HERE OR
Wed 26th May, 6pm – 7pm book HERE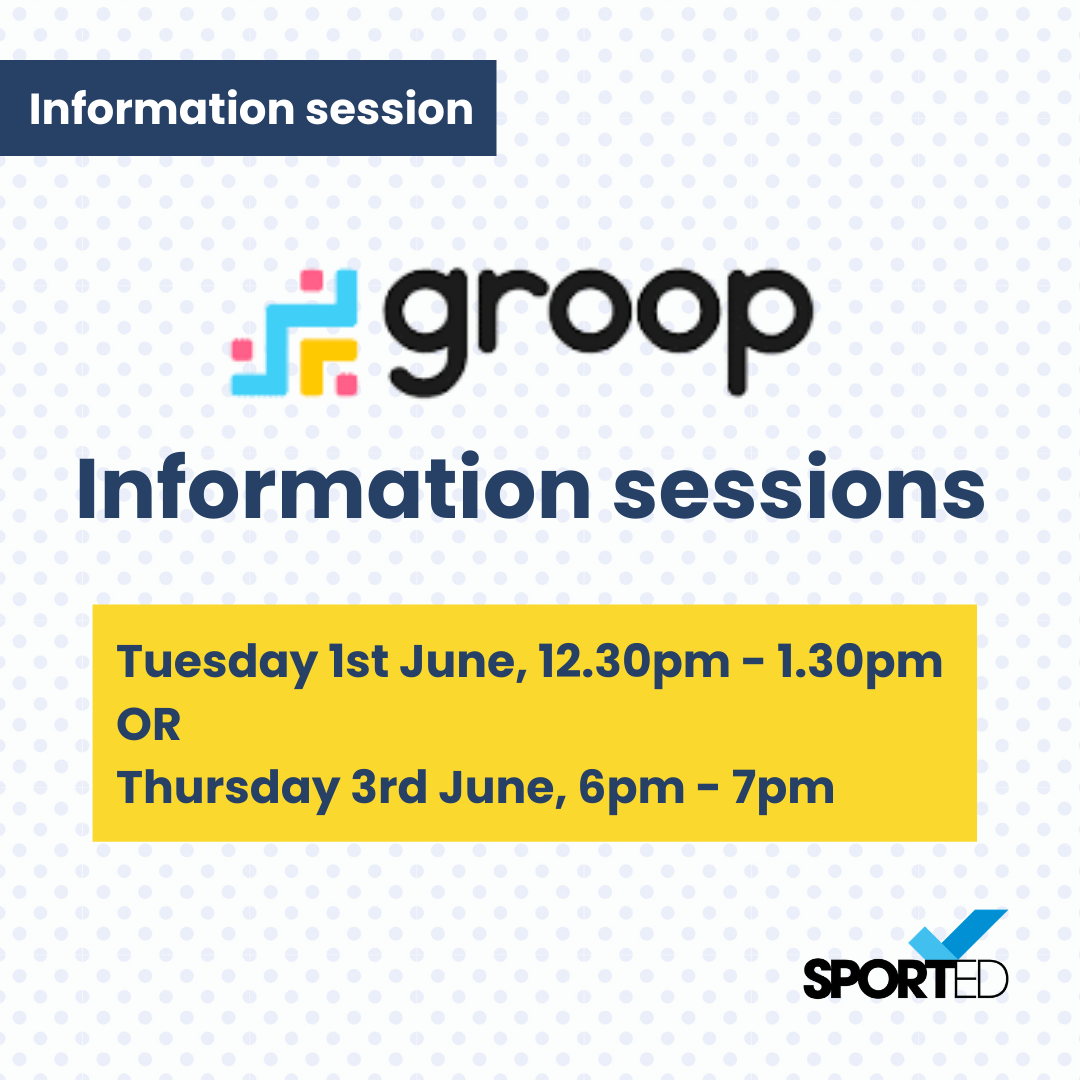 Groop information sessions
Tuesday 1st June, 12.30pm – 1.30pm OR Thursday 3rd June, 6pm – 7pm
FREE admin and comms support on the go
From taking registers, sending messages and alerts to your participants and their parents/carers, taking payments or planning events – Groop can do it all!
Join us for a walk-through with the Groop team to see how it could help you save time and money.
Book now on Your Sported Network or e-mail events@sported.org.uk
We're almost there- and it looks great! Thanks to those who've requested a sneak peek, we look forward to welcoming you in next week. Everyone else, watch this space! We're hoping to launch officially at the beginning of June.
If you haven't yet confirmed your contact details (check your junk folder for the e-mail), please reply ASAP so we can set you up with a profile.
Sported Start-ups
Our new Sported Start-ups programme is specifically designed for new groups or individuals at the beginning of their Sport for Development journey or who are at the very early stages of setting up. The programme gives you the option to work in a cohort with other groups at a similar stage or to work 1:1, both with a Sported volunteer. The programme covers the essentials to get you started through a series of surgeries and resources.

The first cohort begins in mid-June (limited availability) with a second starting in September. For more information, e-mail membership@sported.org.uk.