New £50 million partnership to boost National Lottery funding to ethnically diverse groups Find out more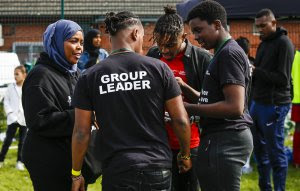 The National Lottery Community Fund and The Ubele Initiative, on behalf of The Phoenix Way Partners, have jointly announced a new £50 million partnership aimed to boost funding and support to ethnically diverse community charities and grassroots groups over the next five years.The Phoenix Way National Steering Group will work with The National Lottery Community Fund to identify national and regional priorities and award funding to ethnically diverse community-led charities and grassroots groups that are best placed to support their communities to thrive.Operational details of The Phoenix Way programme will be designed and developed over the summer – with the aim of awarding funding, from autumn 2021.  
Changes made to strengthen Code of Governance Find out more

Changes to strengthen the Code for Sports Governance have been confirmed after an extensive consultation involving hundreds of organisations.The revised approach is primarily focused on ensuring bodies in receipt of substantial public funding from Sport England or UK Sport have a detailed and ambitious diversity and inclusion action plan to increase diversity on their boards and senior leadership teams, as well as across their wider organisations.  
Blog: Sharing our learning is a great way to connect Find out more

Last week, we held the first Connect and Share virtual get together, with a focus on Active Workplaces.James Brown, Director of Local Support and Partnerships, reflects on what happened and some of the things he learnt.  
New multi-use games area opened in Rotherham Find out more

Greasbrough's new £126,000 Multi Use Games Area (MUGA) has been officially opened.The MUGA, which has been funded by the Football Foundation, Veolia Environmental Trust and Rotherham Council was opened by the Deputy Mayor of Rotherham – Cllr Tajamal Khan, Greasbrough Ward Councillors – Cllr Sarah Allen and Cllr Rob Elliott and Rotherham United Assistant Manager Richie Barker.  
Working in partnership, StreetGames, Sported and Yorkshire Sport Foundation are looking to host a joint network event in September.
The last year has seen community organisations adapt and adjust their methods of working when it comes to engaging with young people.As collective partners we want to ensure our support to you is valuable and useful.We are keen to hear what type of support would be most beneficial to you as we look at the road to recovery post Covid-19. We are asking community sports sector partners to complete this short survey which will inform our decision making on the type of event to host. The survey should take no more than a few minutes to complete.The survey will remain open until Monday 26 July.
ukactive report sets out key role sector can play in getting our ageing nation active
Older adults have revealed what they want from the fitness and leisure sector to encourage greater participation, in a major new report published by ukactive. Find out more…
Premier League launches defibrillator fund for grassroots facilities
Funding available for thousands of grassroots clubs and facilities to apply for device that can save lives. Find out more…
More needs to be done to encourage girls into sport, new study shows
Boys are four times more likely to take part in organised sport than girls – and participation for both peaks at age 14 – according to a new study by Leeds Beckett University. Find out more…
Insight pack – Health conditions and physical activity: Understanding the impact of Covid-19
This insight pack provides the latest picture of the behaviours, attitudes, and feelings of adults with long-term health conditions (LTHCs) towards physical activity. Download a copy…
Updated NSPCC e-learning course for sport and activity
CPSU consultants have worked with colleagues in the NSPCC to refresh their elearning course about child protection in sport and physical activity. Find out more…
Leeds Beckett University nominated for two ukactive Awards
Two people from Leeds Beckett University's Sport & Active Lifestyles department have been recognised at this year's UK Active awards, having been shortlisted in two categories. Find out more…
Date for the diary
National Fitness Day, Wednesday 22 September.