Active in Barnsley partnership launches new websiteActive in Barnsley launches new website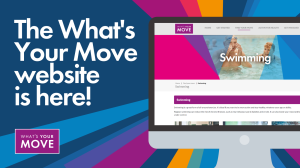 The Active in Barnsley partnership, of which we are a member, has launched a brand-new website, where people in Barnsley can find information about being active, useful links for moving more at home or outdoors and to get inspired by reading 'What's Your Move Champions' stories.Last year, the What's Your Move campaign encouraged residents to move more and incorporate regular exercise and activity into their daily lives. Making it easy is vital, and the internet has many valuable resources to help people be active. However, it can sometimes become slightly overwhelming. For that reason, the Partnership wanted to create a website with resources and helpful tips all in one place, that would be easy to navigate.  
Blog: Making more time to connect and shareFind out more and book a place
At the beginning of July, we'll be piloting a new 'YSF Connect and Share' online conversation.It'll be an informal get together of people involved in similar areas of work – beginning with Active Workplaces. Instead of presentations, sessions will be interactive, including breakout rooms to allow discussion and networking for people involved in similar areas of work throughout South Yorkshire and West Yorkshire.James Brown, our Director of Local Support, explains the thinking behind it, and includes details of how you can join us.  
New campaign launches to boost healthier, greener travel across Leeds
Find out more


People across Leeds are being asked to make one small change to a weekly journey by leaving the car at home and choosing to walk, cycle, or use the bus instead.Leeds City Council has partnered with the West Yorkshire Combined Authority and local bus companies to design and deliver the new Connecting Leeds campaign.  
Sky Sports and ECB target 100 communities with grassroots cricket initiative
Find out more


Sky Sports has partnered with the England and Wales Cricket Board (ECB) to launch Dynamos Cricket Intros, a new multi-year initiative that champions inclusion, encouraging more children to take up the game of cricket regardless of gender, ability, or background.
With the ambition of reaching children who might not ordinarily have access to cricket for a variety of reasons, the 3-year investment will enable schools and community centres in underprivileged areas to provide courses for free.  
Swim England launches innovative project to help develop aquatics businesses
Find out more
Swim England has launched an innovative project to help develop aquatics businesses – and increase the opportunities for people to go swimming.Swim England will work closely with a wide range of customers from swim schools focused on learning to swim, multiple site operators through to large capital investment projects for local authorities.  
Join the #SummerOfPlay campaign
#SummerOfPlay is a campaign to give children the space, time and freedom to play this summer as the Covid-19 restrictions are eased. Find out more…

Leading research team supports mission to enhance sport's contribution to mental health and wellbeing
A team of leading researchers have been commissioned to support the joint mission of the Sport for Development Coalition and Mind to enhance the contribution that sport and physical activity can make to addressing the mental health and wellbeing crisis brought on by Covid-19. Find out more…

New handbook to help prescribe nature for mental health and wellbeing
The resource, from researchers at the University of Exeter, provides guidance and best practice for organisations providing Nature on Prescription, helping them to develop beneficial, safe and sustainable services. Find out more…

Wakefield Trinity Community Foundation launch Team-Mates
This project is about using the power of Rugby League to help break the stigma and challenges of mental health within males. Find out more…

Sense Active launch new virtual training
Sense Active has partnered with UK Coaching to launch a new online learning classroom to ensure anyone facilitating activities for those with sensory impairments or complex disabilities feel better equipped and more confident. Find out more…

BASIS Sustainability In Sport Awards – nominations open
Awards will be given for the best sustainability initiatives that show innovation, impact, and performance. Find out more…