Final opportunity to submit evidence to Policy Yorkshire
Have your say


There are just a few hours remaining to submit evidence to Policy Yorkshire on how to support people to become more active and access sport across the region as part of its recovery from the pandemic.Policy Yorkshire is the think tank for the Yorkshire and Humber region and the Physical Activity Policy Group is particularly interested in what actions around sport and physical activity are needed to help the region recover from the COVID pandemic and also contribute to the Government's ambition of levelling up the country.Submissions can be made up to 5pm today (Friday 16 April) at policyyorkshire.org  
£18 million announced for cycle training for children and their families
Find out more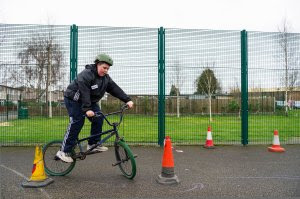 Transport Secretary, Grant Shapps, announced last week that £18 million will be made available for cycle training across the country.The funding aims to ensure children and their families have the confidence to choose active travel, as the government encourages everyone to choose to walk or cycle where possible.The funding, which is managed via the Bikeability Trust charity, will go toward delivering high-quality, practical on-road cycle training as a modern day equivalent of the 'cycling proficiency' scheme many parents will themselves have undertaken during their school days.  
Can you spare us a minute?
Tell us what you think


At Yorkshire Sport Foundation, we want to make sure the content you receive from us is relevant.We share news, updates and best practice from across the sector in this newsletter, on our website, social media channels and The YSF Podcast.We'd appreciate your input on what you'd like to hear more of, and how you want to receive it.Please take a couple of minutes to take part in our survey, which will remain open until 5pm on Friday 30 April.  
Leeds Sports Awards to be shown on TV
Nominate now


On Thursday 27 May, the Leeds Sports Awards will take place live on Leeds TV for the first time.2020 was a challenging year for everyone, with sport particularly badly affected at every level. Despite the difficult circumstances, there were some fantastic sporting performances from the city's professional teams and athletes.More importantly was the incredible efforts of people and organisations from across the city who kept their communities active.The nomination process is now open so don't miss out on your chance to nominate your favourite sporting stars and teams together with the unsung community heroes of 2020.  
Have your say: occupational standards for sport for development
Occupational standards can be used by employers to support workforce development, and can be used by education and training providers to develop new courses and qualifications. Find out more…

How can we encourage more female coaches in handball?
To help England Handball understand what more they can do to encourage more female coaches, they're hosting an online workshop and want to hear from you. Find out more…

Sporting Equals Race Equality Event 2021
The recording of the event is now available. Find out more…

Try Tag Rugby to launch in Sheffield
Rugby Football League Partners, Try Tag Rugby, are excited to announce the start of a brand new league in Sheffield this summer. Find out more…